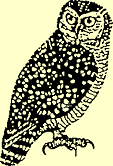 STRIX WILDLIFE CONSULTANCY
---
Personalised Birding programmes for experienced, casual and novice birders around Singapore and southern Peninsula Malaysia.

Birders with specific targets; birders wanting to see as many species as possible; or birders just wanting a leisurely experience…

Programmes are customized to your individual requirements. Options of 4-Hours to 1-Week are possible.
---
links

Nigel Birdwatching in Singapore on the Official Nigel Marvin Site: "It is a rare event, but occasionally Nigel manages to take a holiday. After a press and publicity tour of Singapore in March 2003 (see Links section), he escaped off to the forests to enjoy some superb birdwatching with his friend Subaraj Rajathurai (right). The highlight was seeing the exceptionally elusive rail babbler, which Nigel glimpsed after five days of searching and a mere ten minutes before he had to leave the forest!" and photos of Nigel's trip.

Peter Bono's birding trip report, March 2-3, 2001: 305 sightings; 142 species seen or heard; 18 life birds.

Ron Hoff's birding trip report, April 22-24, 2000 Ron Hoff, from Clinton, Tennessee, USA, says "My wife and I were able to do some birding in Singapore and wanted other birders to be informed of some places to bird and birds to be found at this time of the year..." he adds "Raj is an excellent guide, and he found most of the birds I had asked about by email. Don't hesitate to email him and ask about guiding if you're going to be in Singapore. Make sure you do this in advance, as he is booked quite often."

Bren McCartney's birding trip report 15-16 Oct 1998 Bren shares: "Because of the lack of time and my inexperience in Asia I employed a local guide Subaraj Rajathurai. Raj proved to be an excellent birding companion with humour and considerable knowledge to add to his extraordinary field skills. In the time available I could not have found half the sites or species without him."

Francis Toldi's birding trip report December 1996 Francis Toldi from California, USA says "Mr. R. Subaraj is a first rate guide for the Singapore and Malaysia region. His advertisements were familiar to me from Birding Magazine. In his ABA notes High Dingle strongly recommends Mr. Subaraj. I can now concur: Mr. Subaraj is knowledgeable, well organized, and very pleasant to be around. I also give him my highest recommendation."